Virginia Military Institute a Top Fulbright Producer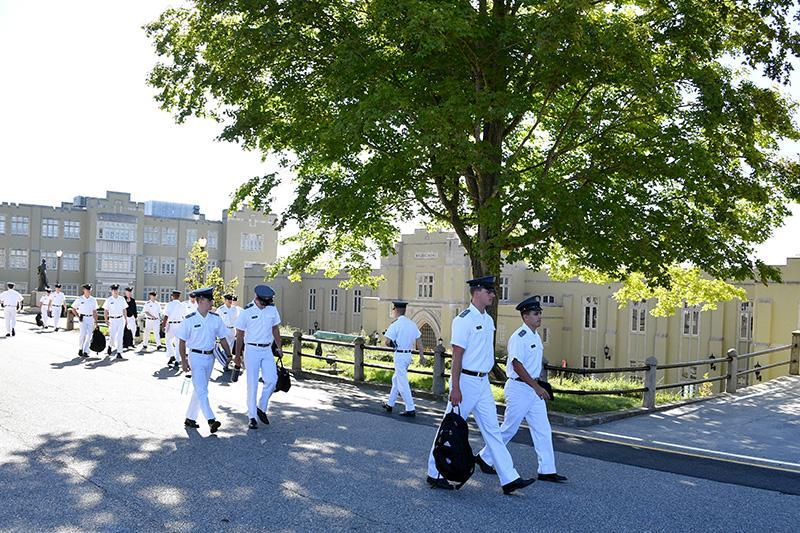 LEXINGTON, Va., Feb. 10, 2020—Virginia Military Institute is included on the list of U.S. colleges and universities that produced the highest number of Fulbright scholars during the 2019-2020 academic year. Receiving Fulbright scholarships were Army 2nd Lt. Annika Tice '19, Col. Howard Sanborn, professor of international studies and political science, and Col. Geoff Jensen, professor of history.
Tice was only the sixth VMI cadet since the program's inception in 1946, and the first since 2001, to receive a Fulbright scholarship. Upon graduation from VMI, she used her Fulbright to teach English in the Ivory Coast. She was one of about 2,200 U.S. students selected last year for the Fulbright program.
A specialist in East Asia studies, Sanborn used his Fulbright to spend the fall 2019 semester studying legislative politics in Hong Kong. A military historian of Spain, Jensen will use the Fulbright grant to support two months of research in Madrid this summer. Sanborn and Jensen were among approximately 470 faculty recipients nationwide to be named Fulbright recipients for the 2019-2020 academic year. In the past, VMI faculty receiving Fulbright grants have included Col. Tim Dowling, professor of history, and the late Col. Jim Hentz, former chair of the international studies department.
Preparing Fulbright candidates for an incredibly competitive selection process is a priority for VMI, said Col. David Hall '83, director of international programs and VMI's Fulbright program adviser. "I believe the combination of high-quality cadet candidates and the efforts of the [VMI] Campus Committee are the reason we have done so well in the Fulbright U.S. student arena in recent years," Hall commented.
Each year the U.S. Department of State's Bureau of Educational and Cultural Affairs (ECA) announces the top-producing institutions for the Fulbright Program, the U.S. government's flagship international educational exchange program. The Chronicle of Higher Education publishes the lists annually.
"We are delighted to see that the colleges and universities we are honoring as 2019-2020 Fulbright top-producing institutions reflect the geographic and institutional diversity of higher education in the United States," said Marie Royce, assistant secretary of state for educational and cultural affairs. "In supporting their faculty and administrators who pursue Fulbright awards, these institutions benefit from new viewpoints from abroad and new international collaborations, which often lead to discoveries and breakthroughs that have a global impact."
The Fulbright program was created to increase mutual understanding between the people of the United States and the people of other countries. The primary source of funding for the Fulbright program is an annual appropriation made by Congress to the Department of State's Bureau of Educational and Cultural Affairs.
Fulbright is active in more than 160 countries worldwide and partners with participating governments, host institutions, corporations, and foundations in foreign countries and in the United States. Many of these organizations also provide direct and indirect support. ECA sponsors the Fulbright Program, and several non-profit, cooperative partners implement and support the program. For more information about the Fulbright program, visit eca.state.gov/fulbright.
-VMI-