Internship Helps to Solidify Cadet's Career Plans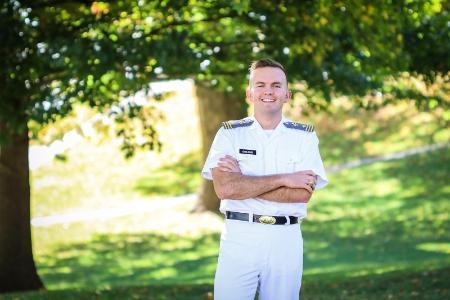 LEXINGTON, Va., Nov. 23, 2021— "I don't shy away from what I do not know."
Jeremiah Gaulding '22 is an electrical and computer engineering major from Newport News, Virginia. After graduation, he plans on commissioning into the Air Force or Space Force. This past summer, he completed an internship at Newport News Shipbuilding.
"I worked in the Chief Engineer's Office and was able to see military-based applications of electrical and mechanical engineering," Gaulding stated. "I was able to see many of the advanced, yet stubborn problems and developments of the next generation of aircraft carriers and submarines."
Gaulding's first internship with Newport News Shipbuilding was cancelled because of the coronavirus pandemic, but he reapplied for 2021 and received a spot. He found his internship provided valuable insight into the production of military vessels and equipment.
"I learned a lot of the requirements of a military system and the design rules they must follow," Gaulding said. "A lot of what I got to see was like VMI: 'drinking through a firehose.'"
After completing his internship, Gaulding feels more confident as he looks towards commissioning.
"My internship [gave] me the realization that I am ready for the next step, whatever that may be," Gaulding said. "I am excited for the future, even though I have barely a clue of what that is going to be. There is so much out there, and I am ready to be put into the workforce to see what I can get myself into."
Gaulding encourages younger cadets to apply to internships early and "take the risk."
"Do the hard major, the hard classes," Gaulding emphasized. "Give it your best effort, reach out to people for help, ask questions, because that is the way that it will pay off in the long run."
Eric Moore
Communications & Marketing
VIRGINIA MILITARY INSTITUTE