Bakich Receives Outstanding Faculty Award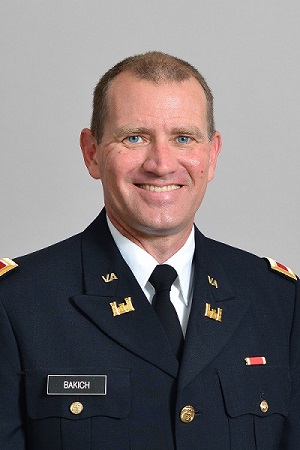 LEXINGTON, Va., Dec. 21, 2022—Col. Spencer Bakich, professor of international studies and the director of the National Security Program at Virginia Military Institute, has been named a recipient of the 2023 Outstanding Faculty Awards announced by the State Council of Higher Education for Virginia (SCHEV) on Dec. 20. The Office of the Dean of the Faculty at VMI nominates professors each year, highlighting accomplishments, recognition, teaching style, research, service to the Institute and community, as well as providing letters of support from colleagues and cadets.
Bakich came to VMI in 2016 after teaching at the University of Richmond, University of Virginia, and Sweet Briar College. He is known for extensive efforts in facilitating independent cadet research and has advised or directly supervised more than 70 cadet thesis projects since 2016. Cadets providing letters of support in his nomination emphasized his dedication to their individual interests and development, and making sure cadets felt comfortable participating in discussions with diverse perspectives.
He was the adviser to the Class of 2021, a cadetship heavily impacted by the coronavirus pandemic. He serves on numerous Institute-wide committees, including the Cadet Educational and Professional Opportunities Committee and the Institute Honors Committee. He is the author of "Success and Failure in Limited War: Information and Strategy in the Korean, Vietnam, Persian Gulf, and Iraq Wars," and his second book, "George H. W. Bush and the Persian Gulf War: Diplomacy, War, and Grand Strategy in the New World Order," is under contract.
"He is an outstanding instructor, dedicated to his students, with a passion for his discipline that is contagious," said Brig. Gen. Bob Moreschi, deputy superintendent and dean of the faculty, in his letter of support for Bakich. "The combination of his passion for making academic scholarship come alive to undergraduate students and his team-oriented spirit made him a key driving force on VMI's successful grant proposal and ongoing participation in the U.S. Department of Defense's Cyber Leadership Development Program. Any sincere observer of Bakich can only wonder how one person can accomplish so much important work on an ongoing basis while limited to the same time constraints each of us face," Moreschi continued.
"I could not ask for more supportive and inspiring colleagues. Receiving this award is a tremendous honor," said Bakich. "Across post, VMI offers cadets amazing opportunities, most notably the myriad opportunities to conduct independent research under the supervision of dedicated and talented professors. Since joining VMI, I have been able to work with scores of national security minor and Institute Honors cadets on exciting and challenging projects. I look forward to continuing this work in the years to come."
Bakich is one of 12 recipients for 2023, in good company with faculty members from other schools across the commonwealth. This year, there were 74 nominations. These awards have been given out since 1987, with recipients being narrowed down and selected by a committee of leaders from the public and private sectors. Each recipient will be recognized and receive a $7,500 gift from the Dominion Energy Charitable Foundation at a ceremony held in March in Richmond, Virginia.
Visit the SCHEV website to see the full list of 2023 Outstanding Faculty Award recipients.
Maj. Michelle Ellwood
Communications & Marketing
VIRGINIA MILITARY INSTITUTE