Jackson House Museum Reopens March 1
LEXINGTON, Va. March 1, 2023 — The Jackson House Museum will reopen to the public on Wed., March 1, after being closed for the winter. Operating hours are Tuesday through Saturday, 9 a.m. to 5 p.m. Self-guided tours, as well as special Master Guide Tours are available daily. Along with the house, visitors can explore the exhibit gallery, which offers a glimpse into Thomas "Stonewall" Jackson's life from cradle to grave, as well as the history of the house and the enslaved individuals who lived there. The museum also offers a place for visitors to stroll in the kitchen garden, located behind the house, and browse the museum store for unique gifts. Residents of Lexington, Buena Vista, and Rockbridge County receive free admission for both the self-guided tour and Master Guide Tour.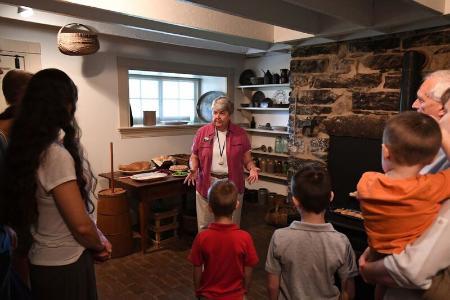 From March 1 through May 31, as part of its ongoing Master Guide Tour Series, The Jackson House Museum is offering a guided tour titled "An Abiding Love: Thomas and Anna at Home." On this tour, visitors explore how the Jackson House displays the love shared between Jackson and his wife Mary Anna Morrison – a love that endured through their friendship, courtship, marriage, and long after Jackson's death.
Most people familiar with the history of Jackson know him as the stern, stoic Confederate general who fought with bravery and skill on the battlefield. But in the memoir of her late husband, Anna described another side of Jackson, one which she said he "never revealed to the world." On this tour, visitors will learn more about this private side to Jackson – the loving friend, devoted husband, and much more.
The Master Guide Tour Series allows visitors to the Jackson House Museum the opportunity to explore the history of Jackson and his Lexington home in new and exciting ways through various guided tours, each addressing a specific topic. These guided tours are available twice a day — at 9 a.m. and again at 4 p.m. Tickets for the Master Guide Tour are $15 for adults and $12 for youth under 18, with discounts available for AAA members and/or active and retired military members. Visitors with a Master Guide Tour ticket will also receive access to the self-guided tour.
The Jackson House Museum is located at 8 E. Washington St. in Lexington. For more information on the Jackson House Museum, call 540-464-7704 or visit vmi.edu/jhm
Marianne Hause
Communications & Marketing
VIRGINIA MILITARY INSTITUTE