VMI's Johnson Finds Father-Son Bond with Trekking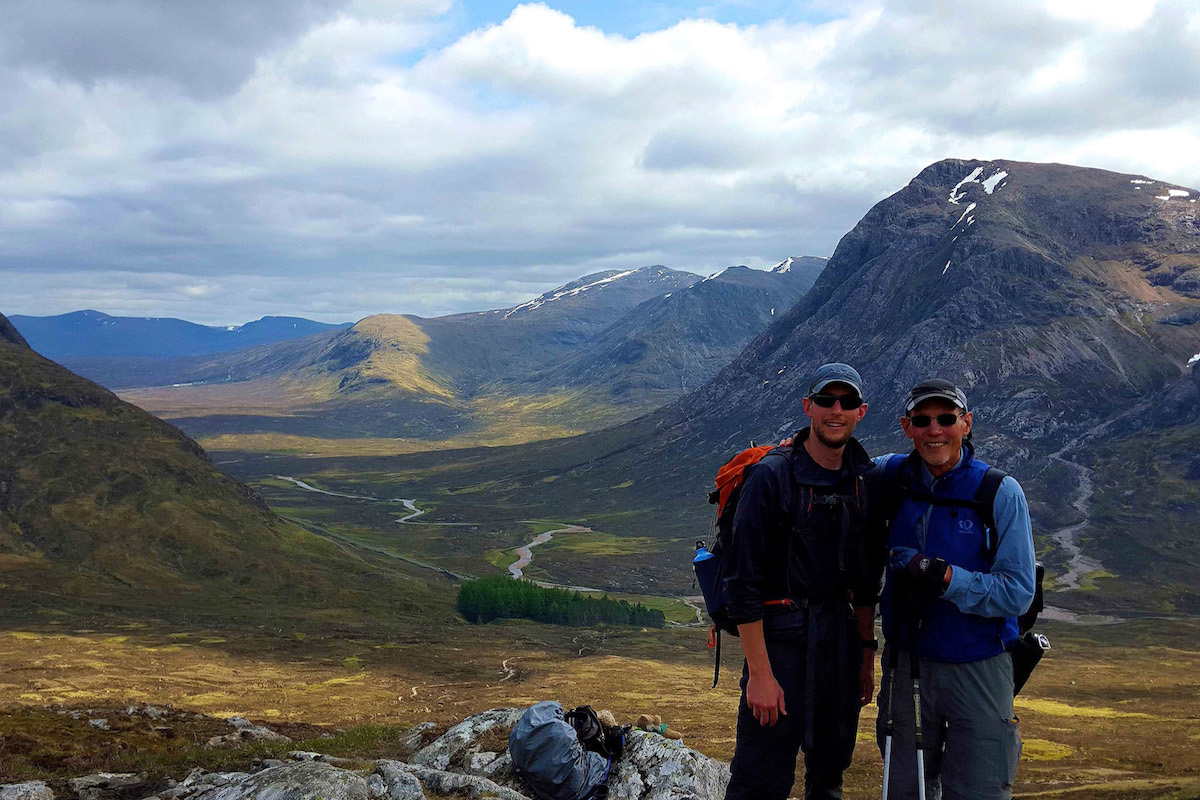 LEXINGTON, Va. Feb. 27, 2023 — Fathers are delighted and honored when their sons follow in their footsteps and find happiness in shared experiences. For Col. M. Houston Johnson V, and his father M. Houston "Mac" Johnson IV, the happiness is literally found in footsteps. Houston, who is a professor and department head of the Department of History at VMI, and Mac, who retired from Roanoke College after 35 years as a college administrator, enjoy bonding through walking.
Mac has enjoyed hiking all his life, and imparted his fondness for the activity to his son. Since Houston was a child, the two have taken multiple treks all over the U.S. and to many international locations. They make annual trips to Mount Rogers, the highest natural point in Virginia, making this year's trek their 32nd. "For us, it's very much about spending time with family and getting outdoors. Traveling internationally has given us the opportunity to see many amazing places, and meet some really interesting people," said Houston.

When making travel plans overseas, the two use travel adventure companies that specialize in hiking vacations. The companies provide maps, suggest stops of interest, and transport the hikers' belongings to the day's destination. The Johnsons have trekked along Hadrian's Wall, a 73-mile long fortification that stretches from the east coast to the west coast of England. They have hiked in Scotland, Italy, Norway, Iceland, Peru, and Nepal. In the U.S. they have hiked throughout the northeast, as well as areas in Colorado, Montana, and California. Each trip lasts one to two weeks.
Houston's favorite trip was to Peru. "That was a unique and special experience compared to the others because we went to a place called the Cordillera Huayhuash, which is in the Andes Mountains, at a very high altitude. We trekked for 11 days, and only came below 13,000 feet once. We didn't pass through any towns, there were no shops to buy a meal, no hotels to sleep, we saw no other people outside of our group. We had a guide and a cook, and donkeys carried our camping gear. It was fun, and a really neat experience," he exclaimed.

Depending on the part of the world, Houston and Mac average around 10 miles per day when trekking. "When we hiked the West Highland Way in Scotland, we had a couple of 20-mile days because we needed to make up some time, and when we're hiking at higher altitudes, typically the miles we cover are fewer because, as you would imagine, it's more strenuous," he stated.

When the Johnsons decide where to travel, they consider places they want to go, and things they want to see. "For many of the trips, we chose places we both wanted to go to for a long time. Most of my life I wanted to go to Nepal and see Mount Everest. Since the weather in Nepal limits trekking season to spring and fall, we were able to make that trip the semester I was on sabbatical," explained Houston.
For novices interested in international trekking, Houston suggests they start with England. "There's a good infrastructure in England and there are trails all over the country. It is urban enough that the vast majority of the trips are walking from inn to inn, or from pub to pub. Many of the walking tours there offer options with distances and the number of days you'd like to spend," he said.

Houston's usual workout routine involves running 25 to 30 miles each week. His father stays in shape by walking three miles every morning, while carrying a 20 pound backpack, and by visiting the gym at least six days a week. Houston's wife and 8-year-old son also enjoy hikes. On weekends they usually join Mac for a hike along the Blue Ridge Parkway or other local trail.

This May, Houston and Mac plan to trek the Azores, a group of islands off the coast of Portugal.
Marianne Hause
Communications & Marketing
VIRGINIA MILITARY INSTITUTE