VMI Pistol Makes History at Intercollegiate Pistol Nationals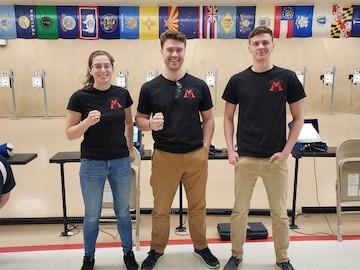 LEXINGTON, Va. March 21, 2023 — For the first time in history, Virginia Military Institute Club Pistol Team attended the Scholastic Action Shooting Program Intercollegiate Pistol Nationals. Three cadets, and their coach, Reese McCormick, departed for Oxford, Alabama to attend Nationals on March 14.
Once the team landed in Alabama, they spent most of their day on Wednesday sighting their pistols. The Scholastic Shooting Sports Foundation hosted the 2023 Scholastic Action Shooting Program Intercollegiate Pistol Nationals and kicked off the competition on March 15.
Seven cadets qualified for the event, but only three were able to attend the championship. Assistant Coach Norman Claytor was instrumental in getting the team to nationals, but he was unable to attend.
Parker Hall '24, Alexandria Holt '24, and Chris Olsen '25 were the cadets in attendance. Of those cadets, Holt made history as the first VMI cadet to shoot in the national championships in pistol. For the team, the results at nationals were not what they had hoped for.
"They did remarkably well," he said. "We are a very young team: two 2nd Class cadets, and everyone else is either a 4th or 3rd Class cadet."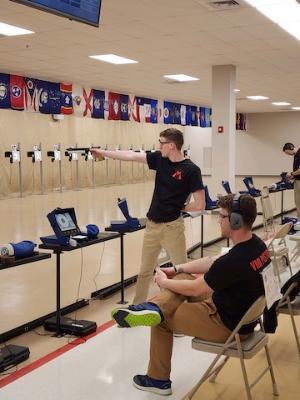 For Coach McCormick, qualifying for nationals was an accomplishment in itself. "Our kids had a rookie coach," he said. "All of us were rookies for the first time."
Though the scores were not perfect, the event was a new experience for all.
"It was a great event for us," said McCormick. "We didn't shoot as well as we wanted to, but at the same time, it was something we did for the first time ever."
McCormick explained that the sport of pistol was relatively new to him. After listening to advice from Coach Bither, he knew it was a position he could take on. In his first year as coach, he leaned on the 1st Class cadets to lead the team.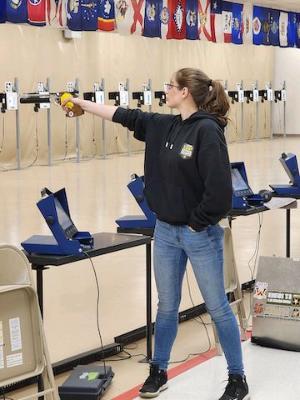 "Coach Bither told me that most of the cadets would be able to lead our team," he said. "After that, he encouraged me to keep reading, and keep learning from the cadets."
One of McCormick's favorite aspects of the sport of pistol – the applicability to everyday life. "It's a lifetime sport," he said. "We may be coaching the sport, but we are really trying to teach these kids life skills at the same time."
During a match, one bad shot can mean that the competition is over for a single competitor. McCormick shared that this lesson is one of the most important things that he teaches as a coach.
"If you throw that one shot, are you going to let that one shot determine the rest of the match for you?" he said. "That is a life skill."
Olivia Polumbo
Communications & Marketing
VIRGINIA MILITARY INSTITUTE