VMI Welcomes NATO Representatives; Institute is Academic Alliance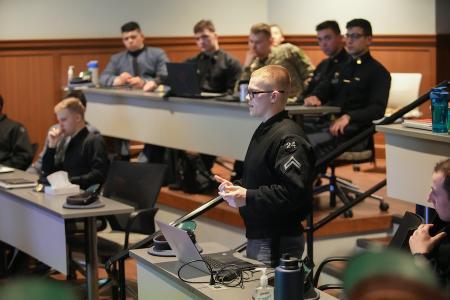 LEXINGTON, Va. March 8, 2023 — Virginia Military Institute recently welcomed three representatives from NATO's Innovation Hub (IH), a formal civilian organization that reports to NATO Allied Command Transformation (ACT) located in Norfolk. It is where experts collaborate and design solutions that meet NATO challenges. By bringing together people with different backgrounds or perspectives, the IH generates a better understanding of the issues, and fosters innovation.
The representatives included Serge Da Deppo, a former Belgian Army Infantry Officer, now reservist with the Information Operations Group, and who developed the IH; Girish Sreevatsan Nandakumar, a postdoctoral associate at the Massachusetts Institute of Technology (MIT) Center for Collective Intelligence, an interdisciplinary research initiative housed at MIT's Sloan School of Management, and a fellow at the IH; and Col. Arnel P. David, who is currently attending the Joint Advanced Warfighting School (JAWS) in Norfolk, Virginia. David previously served in the NATO Allied Rapid Reaction Corps, and for the U.S. Special Advisor to the Chief of General Staff of the British Army.
According to Maj. Timothy Passmore, assistant professor in the Department of International Studies and Political Science (IS), the purpose of the visit was to run an "investment game simulation" as part of the Disruptive Technology Experiment program, deciding how to best spend a set NATO budget. "Prior to the visit from the NATO representatives, 42 cadets of various majors were placed into seven teams, each given a problem on which to work to assess the importance of new technologies and how NATO should prioritize them in addressing potential threats to NATO members and global security. The teams presented their ideas to the entire group at the simulation. In addition to the benefit of the activity for cadets, giving them experience of engaging with key stakeholders at NATO, it offers NATO a chance to source ideas from VMI cadets who have a combination of knowledge and innovative thinking that makes them ideal for offering fresh ideas," he said. 
The relationship between NATO and VMI began two years ago, when Col. Atin Basuchoudhary, professor of economics and business (EC/BU) at VMI was contacted by one of his former students, Will Cederquist '20, whose father, Jon Cederquist '93 advises the IH, to ask if VMI would be interested in being a leader in the Academic Alliance being built by IH. "After consulting with my department head, Colonel Clifford West Jr., and the dean of faculty, Brigadier General Robert Moreschi, I eagerly accepted the offer, and I now serve as academic alliance liaison between VMI and IH. As part of this alliance, VMI has held many events. As the program grew there was a natural collaboration with Major Passmore and the IS department, including this event." explained Basuchoudhary. He continued by saying, "This association between NATO IH and VMI highlights VMI's leading role in developing external partnerships with international organizations that open doors for cadets, including internship opportunities. It also provides a template for how external organizations can get feedback from bright young minds about innovative systems that benefit our national security and that of our allies. Last but not least, it shows the strength of our alumni network and their deep desire to give back to their alma mater."
Col. Valentina Dimitrova-Grajzl, professor in the EC/BU department who was integral in the planning of the event, and who teaches many of the participating cadets, said, "This has been a great opportunity to bridge what is being taught in the classroom with policy-relevant issues in the real world."   
Sam Parramore '23, a history major from Sinking Spring, Pennsylvania, who participated said, "This event allowed cadets to put together intellectually diverse teams to solve complex problems, which is a priceless skill, whether you are commissioning or not."
Marianne Hause
Communications & Marketing
VIRGINIA MILITARY INSTITUTE