Game Day
Keydets football games on Alumni Memorial Field at Foster Stadium are always a highlight of the VMI community calendar.
Fans, family, friends, and alumni often arrive early in the morning to get the festivities started and share in the special atmosphere of a Saturday on post. Game Day by the Corps of Cadets begin at 10:45 a.m., but we recommend arriving early to get a prime spot to view the pageantry of the Corps and build the anticipation for a great day of athletic competition and VMI camaraderie.
Games begin promptly at 1:30 p.m. (unless otherwise noted) following a full Corps opening march-on ceremony.
The game itself is then filled with honored VMI flair, including Rat pushups for touchdowns, the sights and sounds of our cadet band, and the unmistakable sound, sights, and smell of the firing of cannon. A celebratory cannon has been a part of the VMI football scene since 1957, when the Keydets went 9-0-1 under legendary coach John McKenna. Little John II, a small but mighty piece of artillery well known to generations of football fans was recently restored, just in time for the Keydets march to a SoCon Championship in the 2020 season.

---
---
---
GAME-SPECIFIC INFORMATION & TICKETING
For up to date information for specific games regarding opponents, entry time, streaming options, weather, game notes, and more, be sure to visit https://vmikeydets.com/ and check the news highlights.
VMI.UniversityTickets.com is the official ticket marketplace of VMI Athletics:
General admission tickets are available to purchase on Game Day (subject to availability)

Children Under 5 are free, Youth tickets are for ages 5-14, Adult tickets are for 15+

All ADA seating is in the General Admission sections
Will Call is located in Cameron Hall and opens at 9 am on Game Day.
The Cameron Hall Ticket Office is open from 9 am through Halftime on Game Day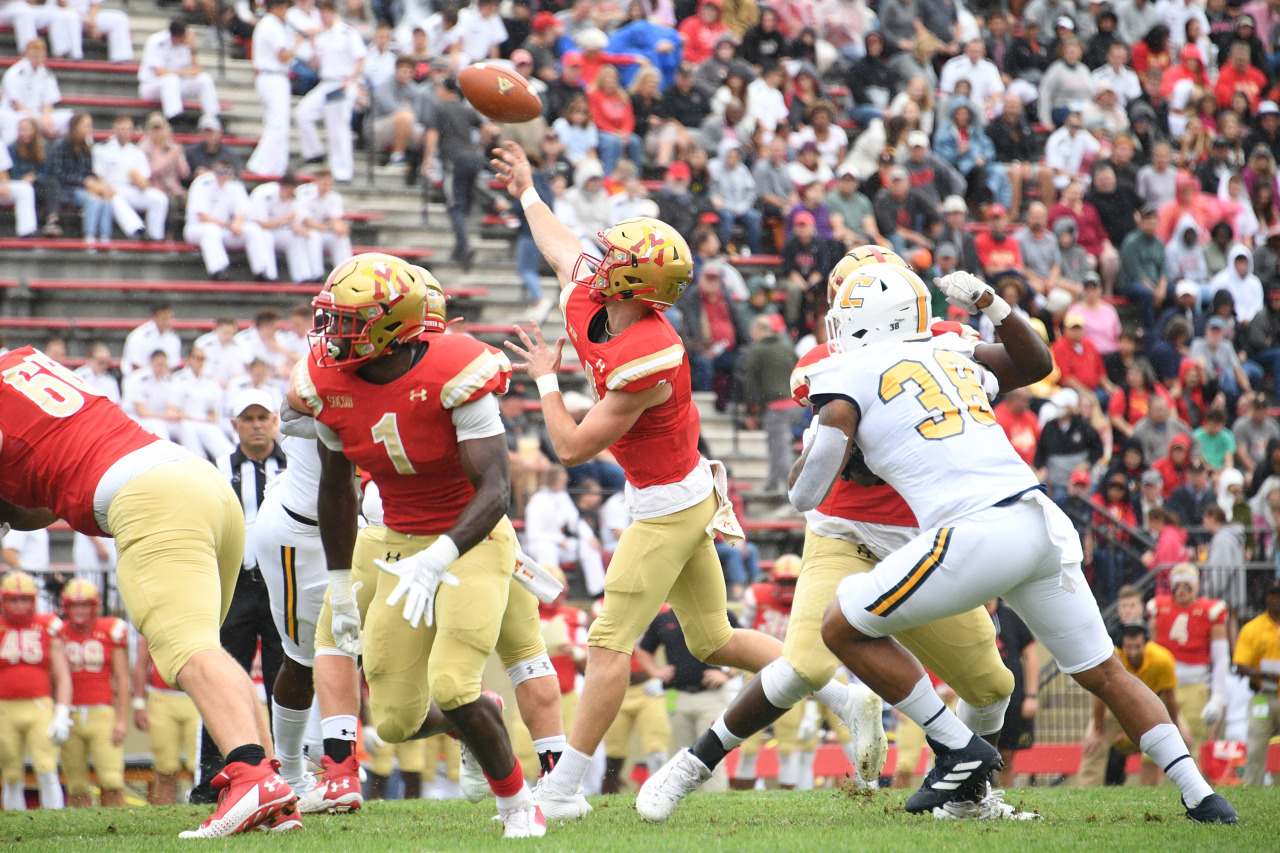 ---
Clear Plastic Bags must be used to carry any item into VMI sporting events to facilitate security checks. You may use any clear plastic bag; however, bags will be for sale in the bookstore and on game day mornings in Cameron Hall. This rule will be strictly enforced.
Items that cannot be taken into the stadium: The following items cannot be taken into the stadium. You will not be allowed to enter the stadium with these items in your possession:
Coolers
Backpacks
Alcoholic Beverages
Pets
Weapons
Outside Food and Beverages
Umbrellas
Drones

---
There are a number of parking opportunities both on and around Post. Parking is on a first-come, first-served basis, and we strongly recommend planning ahead and arriving early to ensure your ability to obtain a space in the designated areas.
ON-POST SHUTTLE SERVICE
An on-post shuttle service will run continuously from 9 a.m. to 5 p.m. Pick up locations are Moody Hall, Memorial Hall, Crozet Hall, and Cameron Hall. During the football game, shuttles will be positioned at Cameron Hall to transport spectators from the stadium back to the parade ground area.
PARADE GROUND AND CPTF PARKING RULES
The parking fee for these facilities is $40. Have cash payment ready for attendants to keep traffic moving. Attendants will have the ability to give change. An ATM is available near the Daniels Courtyard.
Parking is on a first-come, first-served basis. Parking attendants will not allow spaces to be held for others. Tailgating is allowed on the Parade Ground, but not in the CPTF. If you want to tailgate next to friends or family, follow each other onto the Parade Ground.
Follow all directions. We have an established plan that allows approximately 320 vehicles to park on the Parade Ground. Once you have entered the Parade Ground or CPTF parking, you may not leave and return. If you choose to depart, take all your items with you. Your space will not be held open.
Please note: Parking on the Parade Ground is weather-dependent.
Further details for each parking option are available below.
Parking on post during game days will start no earlier than 7:30 a.m. to ensure the safety of our visitors and parking attendants. This includes Parade Ground parking ($40.00), parking in parking lots, and the parking garage under the CPTF ($40.00). No overnight parking is permitted. All parking is on a first-come, first-served basis.
Bus and RV parking is not permitted on post.
A limited number of general parking spaces are available to the public in the parking garage under the Corps Physical Training Facility (CPTF). No tailgating is permitted in this area. Garage cost: $40.00
Overflow parking will be available at 40 Old Buena Vista Road. Please note, this location will not have shuttle service to the stadium.
Spaces for handicapped parking are available to the public at the Kilbourne Hall Parking lot behind the scoreboard at Foster Stadium, the parking garage under the CPTF (designated spaces reserved for handicapped parking and other parking spaces on first-come, first-served basis), as well as marked spaces elsewhere on post. There is no charge for handicapped parking in the CPTF.
The City of Lexington is allowing game attendees to use available parking within a short distance of VMI. The two-hour parking limit on signage does not apply on weekends. No parking is permitted on Diamond and Randolph streets as this area is designated by the city as resident-only parking. Violators could be ticketed.
More than 150 free parking spaces are available in these two lots that are located on Varner Lane across from the Lexington Visitors Center and just a short walk from post and Foster Stadium. For directions, use Varner Lane, Lexington, Virginia, when you Google.
Persons with parking passes issued by the Institute or the VMI Alumni Agencies may park in designated VIP areas. When those parking areas have reached capacity, attendants will direct VIP pass holders to other available lots, at which the rules and fees for those lots apply.
---
Tailgating with tents is permitted only on the Parade Ground. Only one tent per vehicle is authorized. Do not stake tents when placing them on the Parade Ground, as this can damage the underground sprinkler system. Tents should be secured with weights. Tents cannot exceed 10' x 10' in size, and only one tent per vehicle is authorized.
Tailgaters are responsible for cleaning up their trash. Garbage should be placed in a garbage bag and tied closed to avoid spilling. Trash cans are provided on the Parade Ground and are emptied during the football game.
Alcohol: Employees, cadets, visitors, and other persons, regardless of age, are not allowed to consume or possess alcohol on post, including at events such as tailgating and locations such as, but not limited to Alumni Memorial Field, Foster Stadium, Gray-Minor Stadium, and other locales involving Institute athletic events.
Pets: Pets are not allowed on post; however, service animals are permitted. This is not a pet-friendly activity.
Weapons: Weapons are not allowed on post.
Only propane cooking equipment is allowed. All grills must be secured and TURNED OFF if left unattended.
No generators or smokers are allowed on the parade ground.
Trailer mounted grills and smokers are not allowed on the parade ground
RV Parking: RV parking is not permitted on post.

Vehicle weight limits may apply to Parade Ground parking.

Activities that put others at risk are prohibited.
Please secure all personal items when left unattended.
The Parade Ground closes at 6 p.m. except on Parents Weekend, when it closes at 7 p.m. Any vehicles remaining on the Parade Ground will be subject to towing.
To avoid damage to personal property, all tailgating items need to be properly secured when you leave the area (chairs stored, grills turned off, etc.).
Drones are not authorized for use anywhere at VMI unless approved in advance.