Dyslexic Cadet Focuses Research on ADHD and Dyslexia for Honors Week Presentation
LEXINGTON, Va. March 30, 2023 — "Good afternoon. I am a 1st Class cadet here at VMI, and I have dyslexia." That is how Claire Curtis '23, a biology major at Virginia Military Institute, began her senior thesis titled, "Learning Differences at VMI" during Honors Week, held March 20-28.
To a captivated audience, Curtis shared that the U.S. Department of Education defines a learning difference as being "A disorder in one or more of the basic psychological processes involved in understanding or in using language, spoken or written, which may manifest itself in an imperfect ability to listen, speak, read, write, spell, or to do mathematical calculations."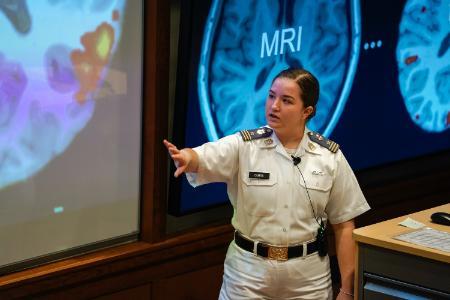 Curtis then focused her discussion on two fairly common learning differences: ADHD, a neuropsychological disorder characterized by hyperactivity, inattention, and impulsiveness; and dyslexia, a neuropsychological disorder personal to Curtis, and characterized by issues in reading, writing, and understanding written language, and affects 20% of the population. She postulated that because the two are the most prevalent learning disorders, there may be a number of students with one or both at VMI.
Curtis shared that her parents believed her capable of reading at the age of four, but she had only memorized the story books that her parents had read to her. They became aware of a problem when she was off by a page, but told the story verbatim. She was officially diagnosed with dyslexia when she was in 3rd grade. However, she is considered to be a twice-exceptional learner, that is a student who has both a high cognitive ability and who has a learning disorder, which is why she is an honors student at an exceptionally challenging senior military college.
Curtis cited federal and state laws currently in place that prohibit discrimination, and allow accommodations for students with learning differences. She examined several colleges and universities in Virginia, such as George Mason University, James Madison University, Randolph-Macon College, University of Virginia, Virginia Tech, and Virginia Commonwealth University, who all offer between three to six different accommodations. But according to Curtis, using accommodations for learning differences disqualifies one from enlisting or commissioning, as well as attending a military college.
"VMI's accommodations include assistive technology, priority registration, extra time on tests, a separate testing location, and academic assistance. I compared those accommodations to what is offered at the Citadel, a college very similar to VMI. Their accommodations include learning assistance, a test-taking center, assistive technology, peer note-takers as well as note-taking alternatives, and priority registration. Like VMI though, they cannot accommodate those who are commissioning," she explained.
Curtis spent much of the year researching, reviewing, and interpreting brain scans, and seeking best practices at places of higher education with regard to learning differences. She sought to educate and advocate, and identified ways to further support VMI cadets with learning differences, including additional funding for programs and support staff.
Maj. Molly Kent, assistant professor in the Department of Biology and Curtis' advisor stated, "Claire approaches material and data differently than many in the sciences, but her unique perspective and voice have been educational for me. I have learned so much from Claire's project and hard work over the past several semesters. I can't wait to see what she does next."
Lt. Col. Sara Whipple, assistant professor in the Department of Psychology said, "I'm impressed with the breadth of information Claire has covered, from the neuroscience of dyslexia and ADHD, to federal and state policies, down to an analysis of services and accommodations that a variety of colleges offer. Advising her on this project allowed me to recognize ways I could improve inclusivity and accessibility in my own classrooms."
Curtis is from Louisville, Kentucky, where she attended high school at Presentation Academy. She is the daughter of Diane and Brian Curtis. Her minors are history and chemistry. She is part of the Institute Scholar program, an S7 lieutenant, works as a cadet assistant athletic trainer, serves as an EMS member, is a member of the Cadet Superintendent's Advisory Board, and plays volleyball. After graduation, she hopes to commission into the military and attend medical school.
Marianne Hause
Communications & Marketing
VIRGINIA MILITARY INSTITUTE