Webinars Show the Way: Class of 2020 Has Job Search Assistance Available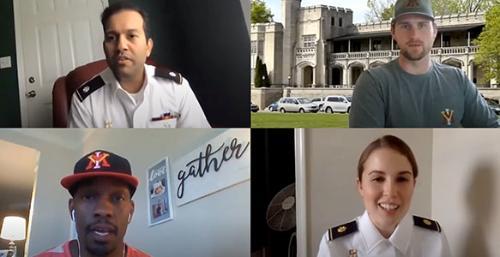 Graduating into a U.S. economy that's plunged into free fall ever since the coronavirus pandemic hit in mid-March, the just under 150 members of the Class of 2020 not commissioning into the armed services face an uphill battle as they search for their first post-college jobs. Thankfully—and in the true VMI spirit—they're not facing that battle alone.
As graduation loomed for the class, and the U.S. unemployment rate rose to a level not seen since the Great Depression, the VMI Alumni Agencies and the Office of Career Services began to work together to bolster new graduates' chances of job-hunting success. But it wasn't the first time they'd joined forces.
"We're trying to ramp up and enhance a partnership with the Office of Career Services," said Thom Brashears '95, chief operating officer of the Alumni Agencies, explaining that helping alumni with career development is one of the functions of the Alumni Association.
Brashears has found a strong ally in Lt. Col. Ammad Sheikh, director of the Office of Career Services. A 20-year veteran of the career services field, Sheikh has seen the job market wax and wane many times over in response to outside events, and he knows that the fundamental principles of how to get a job don't change just because economic data looks grim.
Together, Sheikh and Brashears have developed a series of eight webinars for new alumni. Each Wednesday at 2 p.m., there's a webinar on a different topic, ranging from networking and career management to tips for applying to graduate schools. Leading the webinars are alumni in various fields and various stages of their careers. So far, said Brashears, alumni have included lawyers, defense industry professionals, and business owners of all types. More are always welcome.
"We need alumni from all age ranges, all backgrounds," said Sheikh.
The webinars are recorded for the benefit of those unable to attend at the live times. Polishing them up for their intended audience has been a task for Maj. Mary Kate du Laney, VMI's web designer/manager. du Laney explained that since very few people are going to sit and watch an hour-long recorded webinar, she cuts the file down to 10 or 15 minutes, seeking to include only the most valuable information.
"I'm making it into more digestible snippets," she commented. "It's supporting the [Office of Career Services] mission and putting a little bit of polish on it."
The Office of Communications and Marketing has also been promoting the webinars via social media so new graduates will be reminded of the dates, times, and topics.
Brashears and Sheikh are also seeking to help cadets who'd like more direct alumni assistance with their job searches. A few weeks before graduation, Sheikh sent an email to all soon-to-be graduates who weren't commissioning, asking them if they'd like help from alumni in finding a job. About a dozen cadets have responded by sending their resumes to Sheikh, who then sends them on to Brashears. Brashears, in turn, forwards the resumes to alumni in the appropriate fields.
"I'm very pleased that we're able to do this," Brashears commented. "Everyone is concerned that these young men and women get off on the right foot."
For his part, Sheikh sees plenty of possibilities for this year's graduates, even as newspaper headlines predict a doom-and-gloom scenario for new college graduates nationwide.
"Employers will always need smart young people to solve their problems," said Sheikh. "Now is not the time to panic. These cadets are still attractive to employers."
- By Mary Price