VMI Cadets Visit Wall Street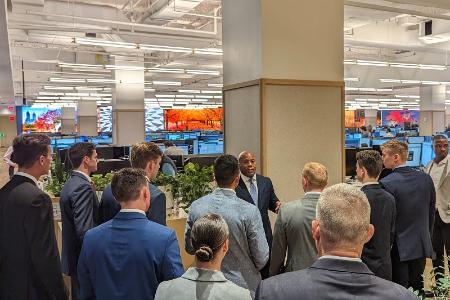 LEXINGTON, Va., Dec. 7, 2022—Members of the Cadet Investment Group (CIG) at Virginia Miliary Institute recently traveled to Wall Street in New York City, New York to meet with stock market analysts and traders, including VMI alumni who work in the industry.
CIG is a student-led organization that is charged with making investment decisions with actual cash provided by an endowment established by an alumnus. Most members major in economics and business, but not all. According to Maj. Tim Murray, assistant professor of economics and business, two different groups in CIG manage approximately $200,000 in total. "Group A is charged with selecting investments from a pool of companies that have a market capitalization greater than $10 billion, categorized as Large Cap. Group B chooses from companies that have a market capitalization between $500 million and $10 billion, categorized as Small and Mid Cap," he explained.
The cadets' day on Wall Street started at TM Capital, an investment firm founded in 1989 by VMI alumnus Gregory Robertson '65, who also serves as a trustee of the VMI Foundation. "TM Capital has been part of CIG's visits to New York for the last 20 years. I have hired several VMI graduates over the years. Andy Krna, managing director at TM arranged for the visit and is delighted to provide cadets an overview of what careers are available to them in investment banking," said Robertson.
The group then walked to the Bank of America building where they met with Charlie Branch '95, who works for Merrill Lynch, which is owned by Bank of America. Branch led the cadets on a tour of the company headquarters including the trading floor.
The cadets' tour continued at the Dow Jones headquarters where they met with Mae Chang, senior vice-president of Barron's, a weekly magazine which covers financial information, market developments, and relevant statistics. While there, the cadets were joined by Frank Dingle '96, who had generously donated a subscription of Barron's to them.
The day concluded after visiting AllianceBernstein where they talked about investments with CIG alumni Andrew Green '18 and Robert Browning '94.
Collin Ironside '24, who is majoring in economics and business and a member of CIG, enjoyed the trip. "The Cadet Investment Group has been awesome to be a part of. I have really enjoyed the relationships I have made with some of the other members, and it has helped me expand my knowledge of finance and investing in the stock market tremendously. Our trip to NYC was such a cool opportunity, and I was very thankful to have been a part of it. I learned so much from all the companies we met with, and it was great to be able to connect with some alumni," said Ironside.
Binh Tran '23, who is majoring in electrical and computer engineering said, "CIG has offered me an amazing opportunity to learn about investment, although I am not an economics and business major. Through the trip to Wall Street, I met great alumni who informed me about their company, position, and advice after VMI."
CIG meets weekly and reviews overall fund performance, discusses current events and their impact on the financial markets, then votes on portfolio additions or deletions, requiring a majority to execute a transaction, either buy or sell. "They are a highly motivated group of students," stated Murray.
Marianne Hause
Communications & Marketing
VIRGINIA MILITARY INSTITUTE