Andrews Air Force Base Brings Helicopters to VMI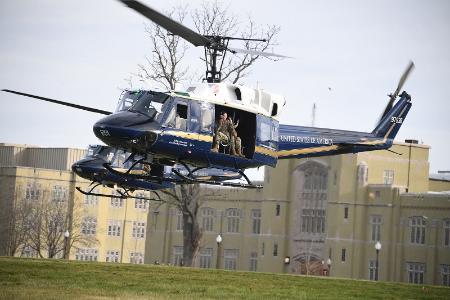 LEXINGTON, Va., Dec. 6, 2022—The Air Force ROTC cadets at Virginia Military Institute took to the air on Dec. 1, thanks to the 1st Helicopter Squadron out of Andrews Air Force Base in Maryland. The squadron's primary mission is to be prepared to evacuate high-ranking personnel from the Capital area in the event of a national emergency, but on that day, their mission was providing quick incentive flights over VMI and Lexington for nearly 175 cadets.
Whitney Tracy '25, a biology major from Blandon, Pennsylvania, said of the experience, "All the doors were open on the helicopter, so it was a little bit cold up there, but it was amazing to see the views, seeing VMI and Lexington from the sky. Being in a helicopter is nothing you can imagine until it happens, but the flight met and exceeded all my expectations."
Sibi Bagavathy '23 is an economics and business major from Ashburn, Virginia. He plans to commission into the Air Force after graduation in May. "I think this is a really exciting experience, that sense of speed up there, the view you get, it's really unrivaled. Obviously, you can do Air Force ROTC at many colleges across the nation, but at Virginia Military Institute, I feel we have a lot more resources available to us than maybe smaller colleges or non-military colleges. For example, having the opportunity to actually fly in Hueys [helicopters], and have these incentive flights. I think especially being an Air Force ROTC, we get a great opportunity to be prepared to be officers," he said.
Marianne Hause
Communications & Marketing
VIRGINIA MILITARY INSTITUTE