VMI Takes Part in Model Arab League Debate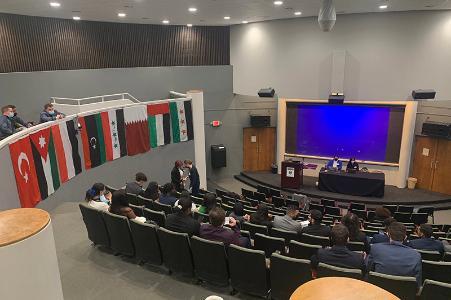 LEXINGTON, Va., Nov. 16, 2022—Virginia Military Institute cadets participated in the annual three-day Appalachia Regional Model Arab League debate recently at Hollins University in Roanoke, Virginia. VMI has participated in the event for the past four consecutive years. Established in 1983, Model Arab League (MAL) is the national Council on U.S.-Arab Relations' flagship Youth Leadership Development Program. MAL helps prepare students to be knowledgeable, well-trained, and effective citizens as well as civic and public affairs activists. The skill sets acquired and practiced in the course of the models are designed to serve the participants well regardless of the career or profession they elect to pursue.
Parker Rice '24, a computer science major, Riley Shultz '24, an international studies major, and Christian Cole '24, who is majoring in history, prepared for the debate each Friday during their lunch hour. Maj. Jason Schroepfer, assistant professor in the Department of Modern Languages and Cultures, coached the three and accompanied them to the event.
Other schools who competed with VMI at the event include Georgia Southern University, Georgia State University, George Mason University, Hollins University, and Roanoke College.
"Each school picks an Arab country and advocates for that country's interests on topics including but not limited to Arab heads of state, Arab court of justice, and environmental affairs. VMI cadets represented the Kingdom of Saudi Arabia," explained Schroepfer.
Shultz, the cadet in charge, participated in the council for political affairs, while Cole and Rice took part in the council for Arab heads of state. "It was enjoyable to interact with many diverse students from other colleges with similar academic interests and aspirations," said Shultz.
By participating in MAL, the cadets are now eligible for a possible internship at the National Council for U.S. Arab Relations, a well-known non-government organization headquartered in Washington D.C.
Marianne Hause
Communications & Marketing
VIRGINIA MILITARY INSTITUTE