VMI Makes History with the U.S. Coast Guard: Cadets Receive Direct Commissions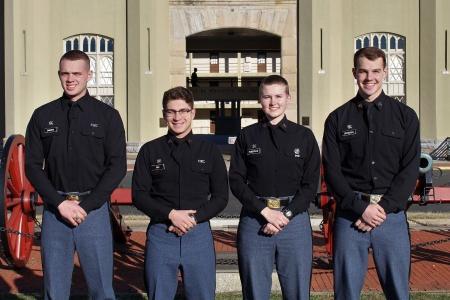 LEXINGTON, Va. Feb. 22, 2023 — For the first time in history, Virginia Military Institute cadets have received active-duty direct commissions to the U.S. Coast Guard (USCG) by way of the Auxiliary University Programs (AUP), and will take their oath of office and receive their first salute at the Joint Commissioning Ceremony on May 15. The momentous achievement has been earned by three cadets, all from Virginia: Aidan Rice '23, an electrical and computer engineering major from Mechanicsville; Sarah Robertson '23, a computer science major from Richmond; and Aidan Simmons '23, an international studies major from Aldie, who also serves as the AUP unit commander. Emma Pratt '21, an alumna from Floyd, will also commission, and Conner Jorgensen '23, a civil engineering major from Glen Allen, received a commission into the USCG Reserve.
The USCG falls under the Department of Homeland Security, unlike other military branches that fall under the Department of Defense. The USCG does not offer a Reserve Officers' Training Corps (ROTC) program like the other branches, but instead offers AUP for cadets interested in commissioning upon graduating. In addition to their AUP activities, cadets are still required by state law to participate in four years of Army, Navy, Marine Corps, or Air Force ROTC. Many USCG AUP cadets choose to participate in the Navy ROTC program.
According to Simmons, the program at VMI was established in 2020 as a club. "Stephen DeCoster '22 and I, along with the commandant staff officer-in-charge at the time, all worked together to get it started. A lot of phone calls and networking led us to retired Commander Dick At Lee at USCG Auxiliary Roanoke Flotilla at Smith Mountain Lake, who guided us through the process to establish the AUP on post, and who now serves as Auxiliary liaison for the AUP. In addition, a graduate of VMI who is currently in the Coast Guard, Lieutenant junior grade Madeline Moger '20, serves as our active duty liaison," he said.
Command Sgt. Maj. Suzanne Rubenstein, director of cadet activities and VMI liaison for the AUP, reports that the club has grown from a few members to 43 members in less than two years, and has become one of the largest AUPs in the United States. "The AUP provides our cadets with an academic and practical curriculum that will effectively build their resumé. Since VMI is a senior military school, the USCG offers cadets a few different pathways: direct commissioning, the traditional officer candidate school, or enlistment with a four year degree. Having five VMI cadets selected for direct commissioning is incredible. We are very proud of that accomplishment," she remarked.
More on the USCG AUP at VMI may be found here.
Marianne Hause
Communications & Marketing
VIRGINIA MILITARY INSTITUTE