Cadets Return to In-Person Summer Research at VMI
LEXINGTON, Va., August 12, 2021—Conducted by the VMI Center for Undergraduate Research, the Summer Undergraduate Research Institute (SURI) is a program where the cadet, as principal investigator, conducts research directly with a faculty mentor. Cadets engage in in-depth research with their faculty mentor for either a 5-week or a 10-week experience, earning a stipend as well as course credit. SURI has sponsored guest speakers, library instruction, and skill development sessions such as writing a project proposal, adding research to a resume, and how to write a research abstract.
In 2021, cadets were once again able to meet with VMI faculty on post for their projects after last year's distance learning sessions. Two of these projects were recently highlighted by Mary Price, a writer in VMI's Office of Communications & Marketing:
Cadet Researches Women in Terrorism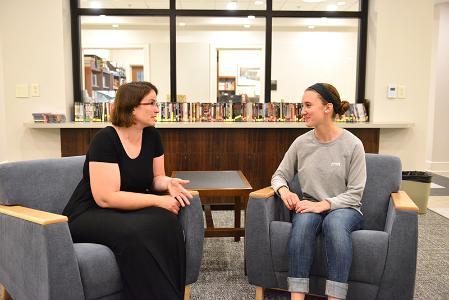 This summer, Alexandra "Allie" Sassaman '22 is delving into research for her national security minor thesis, which will focus on the roles of women in terrorism and counter-terrorism and their reasons for involvement.
For Sassaman, who plans to commission into the Marine Corps, the work is part of her professional preparation. "When I am deployed and abroad, I will probably encounter women combatants, and more so in terrorist organizations, so that's what struck my initial interest," she explained.
Not surprisingly, it's difficult to find information about female involvement with terrorist organizations, either directly or indirectly, so Sassaman has been researching women's participation in conflict over time and across cultures.
"There's a long history [of women in conflict]," said Dr. Vera Heuer, associate professor of international studies, who is mentoring Sassaman's work, which is being conducted under the auspices of the Summer Undergraduate Research Institute. "They go back quite a bit."
---
Cadet Project Focuses on South Africa and the Media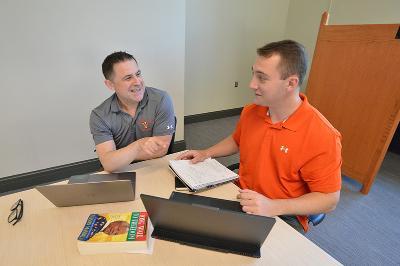 In the summer of 2020, Mitchell Masterson '22 needed a history elective, so he signed up for a class on South Africa with Maj. Jochen Arndt, assistant professor of history.
One thing led to another, and by the spring of this year, Masterson was taking Arndt's senior capstone course on the end of apartheid in South Africa. This summer, working under the auspices of the Summer Undergraduate Research Institute, Masterson completed an independent research project on media coverage of South Africa's transition from apartheid to democratic rule, which took place between 1990 and 1994.
"I really liked the question that the capstone brought up, which was, 'How does the media create the first draft of history?'" said Masterson.
To explore that question further, Masterson decided to examine external versus internal media coverage of South Africa's transition. For an external news source, he used the New York Times, which had a reporter or reporters on the ground in South Africa from 1990 to 1994. For internal coverage, he relied on a collection of South African newspapers which he accessed via the Foreign Broadcast Information Service (FBIS), a CIA-operated initiative which monitored, collected, translated, and republished foreign newspaper articles for U.S. government officials. He also accessed the South African Press Association, which printed its own newspaper.
Luckily for Masterson, Preston Library recently acquired access to the FBIS database, which has a specific section on apartheid, making it much easier to do research without having to leave post.
---
You can learn more about these projects, as well as past SURI endeavors by visiting VCUR's Cadet Research News page.
- VMI -