Leadership
Preparing Cadets for Leadership After VMI
Founded in 1839, Virginia Military Institute has produced leaders imbued with a high sense of public duty and possessing the skills to lead successfully across the military, public, and non-profit arenas. Virginia Military Institute operates under the philosophy that the measure of a college lies in the quality and performance of its graduates and their contributions to society.The challenges of the 21st century are complex. VMI's core values — honor, character, and service — prepare our citizen-soldier leaders to overcome these complexities. VMI's program of leadership development seeks to educate cadets on the theory and practice of leadership and to offer opportunities to put cadet understanding of leadership to the test.
---
---
Leadership in Organizations Course
LEAD 344 is an interdisciplinary study of leadership in an organizational context focusing on the integration of theory and practice, taught by faculty with formal academic training and experience in leadership studies and affiliated disciplines. Cadets study the leader's direct influence on individual motivation and group processes through the application of leadership theories, skills, and attributes. They also learn how to influence subordinates indirectly through organizational systems and procedures, organizational culture, and ethical climate. The course will be structured around opportunities for cadets to reflect upon and apply the knowledge gained in the classroom to their experiences as leaders (and followers) in the Corps of Cadets and in the various ROTC curricula.
Leadership Publications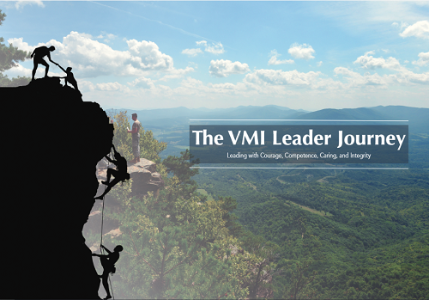 VMI Leader Journey
The VMI Leader Journey is a leadership development system that incorporates the Institute's core values -- honor, character, and service -- practiced in an environment stressing civility. This document provides an overview of the cadet's four-year journey of "whole person" development across our academic, physical development, and military programs.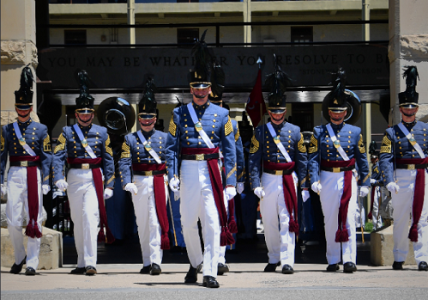 Leadership Opportunity Inventory
This document outlines opportunities available to cadets across the four-year VMI experience and demonstrates that cadets seeking opportunities will find them. In addition, it provides a foundation for a structured and formalized cadet leader development system, identifying cadet development goals and the methods by which those goals are attained.
---
Leaders-in-Residence
The VMI Leader-in-Residence program brings to VMI leaders of character whose distinguished careers within the military and/or private sector exemplify the citizen-soldier model.
Annually, one LIR conducts a "residency" at the Institute during the Spring semester. During their stay, the LIR interacts with cadets, faculty and staff in a variety of formal and informal settings including the classroom, in barracks and during athletic activities such as club sports. Additionally, the LIR delivers one major presentation, open to the public, on a topic related broadly to leadership.
The "residency" aspect of the program allows cadets and faculty to explore the full range of leadership issues the leader has faced during his or her career. Both the LIR and members of the VMI Community benefit from a mutual exchange of ideas to test their understanding of leadership concepts, explore how these concepts have been used in practice and investigate the broad range of challenges faced by leaders today.
---
Core Progressive Professional Development for Faculty and Staff at VMI
Our Center conducts progressive professional development programs and workshops to enhance interpersonal, teaching, and leadership skills. This program reinforces VMI culture; provides attendees with enhanced self-awareness, includes some baseline leadership skills common to both staff and faculty; and incorporates critical thinking and reflection opportunities.
For more information on these programs, please contact Lt. COL Tucker, Assistant Director, Leadership and Character Development at tuckerpa@vmi.edu or X7799.
Accelerating Professional and Personal Success – A core developmental sequence for incoming faculty and staff members to reinforce knowledge of key interpersonal skills fundamental to personal and career growth. These skills set a foundation for quality interactions with cadets, peers, and supervisors in and out of the classroom / work-place.


Outcome: Understand and apply key interpersonal skills to enhance professional development and personal effectiveness as a VMI faculty or staff member.


Objectives:

Understand and incorporate Habits of Excellence as part of the professional and personal development plan.
Define and articulate the Leader/Follower connection to enhance on-the-job effectiveness at VMI and personal effectiveness off duty.
Gain a greater degree of self-awareness of active listening tendencies and communications styles; apply active listening and communications techniques to enhance personal / group effectiveness.
Comprehend and reenact how to elicit and give feedback to develop productive professional relationships within VMI.
Continuing Professional Growth for Employees (Years 6-10) - A sequence of seminars conducted over an academic year. The course develops each individual's self-awareness; how to influence other people, and leadership fundamentals that can be applied within academic and administrative departments. The seminars focus on key leader and follower skills that enhance participants' effectiveness in performing committee or departmental duties.
Outcome: Understand and apply key interpersonal skills to enhance professional development and personal effectiveness as a VMI faculty or staff member.


Objectives:

Understand and incorporate Habits of Excellence as part of the professional and personal development plan.
To assess and enhance understanding of their individual strengths by participating in StrengthsFinder instrument and coaching.
To develop selected leadership and supervisory skills that can be successfully applied during committee work and the course of their daily duties.
To understand and apply organizational leadership theory and techniques during seminar discussions and exercises.
---
Related Programs
Cadet Facilitator Training is offered each year to prepare cadets to lead small group discussions and facilitate round-table work at conferences hosted by the CLE. Cadets, and the participants in the discussions they lead, use an ethical triangle card to evaluate the choices and decisions they would make or recommend. In addition to gaining leadership experience during conferences, trained cadets also leave VMI with marketable skills in collaborative work and decision making.
Speaker videos on topics of national important - our Center maintains a library of videos from the various speakers we've hosted. The content of these speeches could easily enhance any classroom discussion or unit of study providing first-person perspectives or research from renowned subject-matter experts. We have listed a few topics as shortcuts, but from any one of these playlists, you may link back to our channel to see our full library of recorded speeches and moderated interviews. Highlights include:
---
Additional Resources
Self-Assessment Instruments
Self-awareness and reflection are important elements in understanding one's leadership style and behaviors. The following links contain a few key leader self-assessment Instruments that are free to the general public.
The Ohio State LBDQ-XII assesses leadership under the style approach (initiating structure and consideration). LBDQ Self-Assessment | LBDQ manual and scoring guide

Myers-Briggs Type Indicator (MBTI) assesses personality type under the psychodynamic approach. You can take a free test online that uses the Myers-Briggs as its basis, but an official MBTI Assessment must be administered by a certified practitioner or can be completed online for a fee.

The Big Five Personality assessment provides feedback on five personality traits. This site contains other free self-assessments and resources.

Straights Talk provides an assessment of an individual's communication style.
Self-Study Professional Reading Lists
The following professional reading lists (listed in no particular order) provide intellectual food for thought and reflection on a variety of leadership and ethics-related topics for a range of professions:
Associated Professional Organizations
The following professional organizations have resources available to their members on their websites.