Readmission of Former Cadets
Cadets separated from the Corps by resignation, failure to pre-register, suspension, medical furlough, or failure of eligibility must apply to be readmitted.
Readmission is based on the merit of each application, and the likelihood for successful completion of the VMI program. A full assessment will be completed as to whether the cadet could safely return to participate in all academic and physical components of VMI, and successfully integrate into the military and class structure.
Cadets seeking readmission must be able to meet VMI standards. Those not meeting standards will not be allowed to re-enroll.
Cadets dismissed for disciplinary reasons may petition for readmission after being absent from VMI for one full calendar year. The status will be reconsidered based on the presentation of new evidence or extenuating circumstances.
VMI reserves the right to deny readmission to a cadet who has been separated from the Institute longer than two years, or if a cadet cannot successfully integrate into the Corps to complete the requirements as stated above.
A complete outline of the readmission standards, deadlines, and forms are available from the Miller Academic Center.
Please note that the readmission process is achieved through the Miller Academic Center and not through the Admissions office. Refer to the Readmission page, or contact MACCalendar@vmi.edu or 540-464-7661 with questions.
---
Deadlines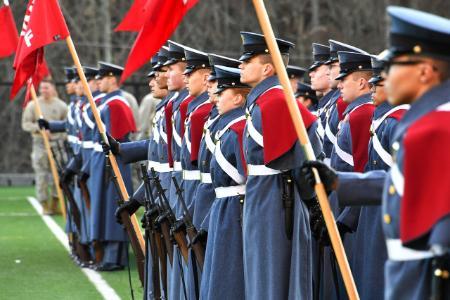 Completed applications and supporting paperwork must be submitted by June 1st for Fall readmission or November 1st for Spring readmission. Late applications will be considered for the next eligible semester. All documents should be sent to:
Virginia Military Institute
Miller Academic Center
c/o LTC Young
202 Carroll Hall
Lexington, VA 24450