Paul Hebert - Visiting Professor
Dr. Paul Hebert '68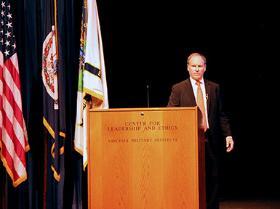 For more than 30 years, Dr. Paul Hebert has worked to promote and support humanitarian action in less developed countries. He graduated from VMI in 1968 with a BS in Civil Engineering, earned an MS from UNC/Chapel Hill, and served two years in the U.S. Army Medical Corps. Following a one-year position with Bechtel Corporation in San Francisco as an environmental Engineer, he began his dream of a career in development and humanitarian action through an assignment with the Near East Foundation in Iran, helping the government to improve water supplies, sanitation and tackling the environmental control of Bilharzia (schistosomiasis) in southern Iran from 1974-1976.

His work has spanned 4 continents, including Asia (Southeast, South, and Southwest) and Middle East, Europe, Africa and the Americas. He has lived fulltime in 8 countries, including Iran, Philippines, Nepal, Bosnia and Herzegovina, Serbia (covering Serbia and Montenegro, Kosovo and Macedonia), Geneva, Switzerland (where he covered Iraq, Former Soviet Republics and Former Yugoslavia), Ethiopia and Kenya. His development and humanitarian coordination work also took him to other countries in Southeast Asia (Malaysia, Indonesia, Burma, Thailand); South Asia (India, Pakistan, Sri Lanka, Bangladesh); Former Soviet Republics in the Caucasus (Armenia, Georgia, and Azerbaijan) and in West Asia (Tajikistan) and in Southern Africa (Swaziland, and Malawi).

After completing studies for a PhD in Environmental Engineering from UNC in 1981, he worked with the World Bank assigned in the Philippines from 1981-1985, where he trained local engineers to plan and design low-cost water and sanitation systems for small urban and rural communities using the first microcomputers on the market. He carried this training eventually to 12 Southeast and South Asia countries. Paul developed the training curriculum used throughout SE Asia, South Asia and Africa for the World Bank, supervised the development and refinement of computer programs used in training and led the training and training of future trainers. Over the next five years, he continued as a consultant for the World Bank as well as the United Nations and the US Government and worked for the Research Triangle Institute, as Chief Technical Advisor to develop a management information system for the water supply sector in Nepal.

In 1991, he made a career shift after his wife had taken a job with the World Health Organization in Geneva, Switzerland. This shift led him into humanitarian work with the United Nations for the next 17 years. By 1995, he had become a senior officer with the UN Department of Humanitarian Affairs (DHA) and the UN Office for Coordination of Humanitarian Affair (OCHA). His main focus was to raise funds for humanitarian action for those affected by man-made humanitarian crisis in Iraq, in the former Soviet Republics, and in the former Yugoslavia and to coordinate on-the-ground humanitarian action as the senior officer in charge of these regions.

From 2000-2003 he was Head of the UN Humanitarian Coordination (OCHA) Office in Serbia (Belgrade), following the deposing of Slobadan Milosovic. He was also UN Regional Humanitarian Advisor covering Macedonia, Kosovo and Montenegro. In April 2003, he took over as Head of the UN OCHA Office in Ethiopia and Deputy to the Humanitarian Coordinator during the worst humanitarian drought crisis (affecting 13 million people) since the 1985 Ethiopian Famine. During a five-year tenure in Ethiopia, he negotiated with senior government ministers including the Deputy Prime Minister and Minister of Foreign Affairs to ensure that response to various humanitarian crises. This effort evolved into a fund that in 2008 garnered $80 million for rapid humanitarian action.

His final assignment with the UN was as senior advisor in the post election violence in Kenya from February-June 2008, where he helped coordinate UN response to the crisis, working directly with the Government and Red Cross of Kenya. Since June of 2008, Dr. Hebert retired from the UN in May, 2008.

Since May 2008, He has been working as an independent consultant for Catholic Relief Services, the UN and other Non Governmental Organizations (NGOs) in East Africa in assessing success with community based water resource management, sanitation programs and in using new humanitarian funding approaches. in 2008/2009 Dr. Hebert served as organizer of the Technical Program for the Dubai International Conference on Humanitarian Aid, held in April 2009. He then served on the organization committee and was a speaker at the subsequent 2010 Dubai Humanitarian Aid Conference. Dr. Hebert has served as a resource speaker and workshop facilitator for numerous humanitarian programs for both the United Nations, for non-governmental organizations and for Rotary.

The VMI Board of Visitors selected Dr. Hebert to receive to be the 3rd recipient of the Jonathan Daniels Humanitarian Award. Dr. Hebert received the award in March of 2011 before the entire Corps of Cadets, faculty and staff.

Dr. Hebert was awarded the Floyd D. Gotwald Visiting Professorship for Leadership and Ethics for the Fall Semester of 2013. He taught a course on International Humanitarian Aid in the Department of International Affairs during the fall semester and prepared and delivered a speech to the 2nd class in December as part of his responsibilities.

In a private volunteer capacity, he helped support a primary school adjacent to the Kibera Slum in Nairobi, one of the largest slum in all of Africa. The Anajali Primary School serves 450 of the poorest children from the slum. He and his wife led fund raising of over $200,000 for construction of new classrooms, and for a school lunch program, and to support more than 50 primary school graduates to attend boarding high schools. He has donated his honorarium for the Daniels Humanitarian Award to help purchase land for a high school for graduates of the Anajali Primary School. Paul lead a team of 5 professionals to Kenya in July of 2013 to develop a strategy for Water Supply, Sanitation, and Hygiene that will be used by Rotary Districts in Colorado and Wyoming to support water and sanitation related projects for schools and for youth employment in East Africa for the next 10 years. He is also working to support another primary school serving poor rural children outside of Nairobi through Rotary Club Grants.

Paul is a member of Rotary International and the Steamboat Springs Rotary Club, where he chairs the International Service Committee. He is a member of the Board of Directors of Advocates for Peaceful Communities serving Routt and Moffat Counties in Colorado to support women who have been sexually or physically abused and to confront such abuse. He is also a member of the Advisory Board of Discovery Care Group, a Health Services Company based in San Diego. The company specializes in development of HiV-AIDS testing equipment.

Paul is an avid skier and enjoys sailing, reading, outdoor sports and adventure. Dr. Hebert thoroughly enjoyed connecting with cadets inside and outside of his class time during his 2013 visiting professorship in the Department of International Studies. He found time during that semester to utilize the Faculty and Staff fitness center and to participate in the VMI Community Theatre Christmas one act play production. He has two grown children in Colorado and two grandchildren. His wife, Dr. Mayling Simpson, is a medical anthropologist and writer.

Paul has returned to VMI for the Fall of 2015, as the Floyd D. Gottwald '63 Visiting Professor in Leadership and Ethics in the Department of International Studies.