Class Lecture Series
Floyd D. Gottwald, Jr. '43 Visiting Professorship - Class Lecture Series
2022-2023 - Lieutenant General (Ret.) Gwen Bingham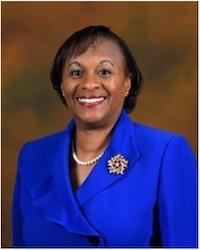 Lieutenant General (three-stars) Bingham retired in September 2019 from the United States Army following a 38-year career in the military. Bingham's impactful success with VMI's cadets and faculty, as the 2021-2022 Leader In Residence, is returning this academic year (2022-2023) as the Floyd D. Gottwald, Jr. '43 Visiting Professor.
Some of her accomplishments include:
Army Assistant Chief of Staff, Installation Management
First female Garrison Commander at Fort Lee
First female to serve as Quartermaster General
Army ROTC Distinguished Military Graduate, University of Alabama Aug '81, Bachelor of Science degree in Commerce and Business Administration
Two Master's Degrees: Administration from Central Michigan University, National Security Strategy and Resources from the National Defense University
2019 Joint Women's Leadership in Excellence Meritorious Service Award
2021 Omicron Delta Kappa (ODK), the National Leadership Honor Society honorary
Learn more about Lt. Gen. Bingham's leadership style and career advice from the VMI Leader Journey Podcast - Does Your Audio Match Your Video?
---
Past Lectures
2014 Ed Walker
You Can Improve the World You Live In - Just Step Up to the Plate, Dr. Paul V. Hebert '68, December 2013

Morality, Honor, and Brotherhood, Dr. William Lad Sessions, November 2012

Citizen Soldiers of the First Rank, Lt. Gen. John W. Knapp '54, Superintendent Emeritus, April 2012

Professors: Eccentric & Exceptional, Lt. Gen. John W. Knapp '54, Superintendent Emeritus, April, 2011

Our Triumvirate, Lt. Gen. John W. Knapp '54, Superintendent Emeritus, April, 2010

The Military Virtues, Dr. Lewis Sorley, April 2009